in Reston Town Center today
and was overwhelmed with new tea choices. =)
You can view the selection
here
-
but here are my TOP 5 picks:
1. Chocolate Bananas Foster Herbal Tea
Description: Nirvana for the dessert lover, this magnificent herbal blend is deliciously decadent and oh-so-sweet. Rich chocolate, creamy caramel and ripe banana blend smoothly with soft notes of apple, pineapple, and rosehips for a guilt-free treat you know you so richly deserve.
Rich chocolate and caramel with sweet banana.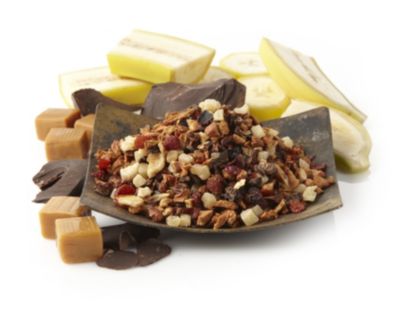 2. Strawberry Cream White Tea
Description: Imagine luscious peaks of whipped cream brightened with slices of ripe strawberries. Now enjoy the same flavors without any guilt, in this rich and dairy-free dessert treat, served on a snowy white tea base. A creamy, strawberry dream indeed!
Lush strawberries and sweet cream.
3.
Berry Almond Amaretto Herbal Tea
Description: This bright herbal infusion is a fragrant orchard bursting with deep berry and sublime nut flavors. Ripe grape, tangy black currant and sweet hibiscus pair with creamy almond and rosehips to create a heavenly harvest of bountiful deliciousness. Contains nuts.
Bright berry and grape with a subtle nutty flavor of almonds with a hint of sweet spice.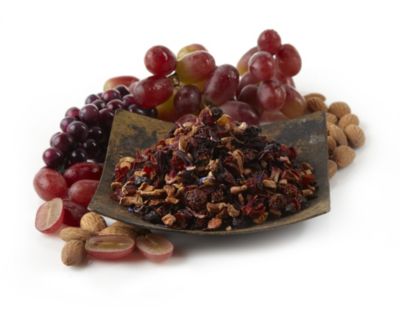 4.
Strawberry Rose Champagne Oolong Tea
Description: Tres Bien! French-inspired flavored oolong tea features luscious strawberries, pink rose buds, crisp rhubarb, white grapes, soft vanilla, and a hint of bubbly champagne. Deliciously romantic, it's a sumptuous combination that sparkles on the palate, conjuring up dreamy days ambling along Epernay's rolling vineyards and valleys. Superfruit enhanced.
Sweet strawberry balanced with the taste of crisp Champagne and soft rose.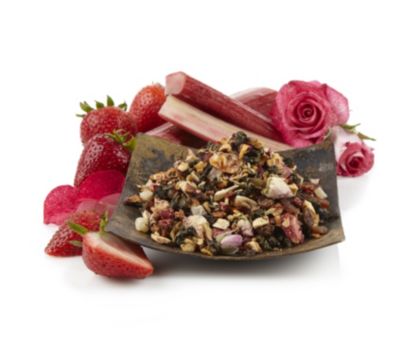 5.
Fruit Bomba Green Tea
Description: A fruit explosion in every sip, this colorful tea is a rainbow of flavors. Playful peach, papaya, lemongrass, green tea and rooibos give a cheerful chant while the fruit-filled fireworks will lift your spirits, welcoming you with a bright 'hello.'
Crisp citrus notes from pineapple, apple, and lemongrass with sweet peach.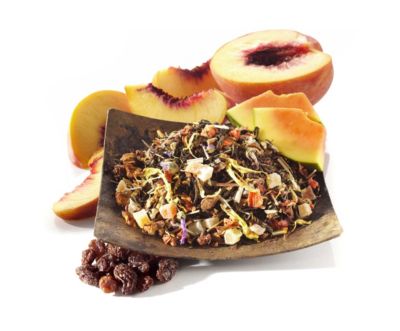 Hot or Iced - these teas can go either way in the spring!
My roommate Vanessa and I really enjoy the
Strawberry Rose Champagne lightly sweetened
(she takes hers hot,
I take mine iced!)
Also enjoy some of these dessert-inspired
teas with some milk
(and lightly sweetened if you prefer)
I tried the Chocolate Bananas Foster
one iced today with some milk -
but forewarning: its sweet enough on it's own...
it doesn't need much sugar!
Let me know if you try any others you like -
I'm always looking for a new flavor adventure :)
xo,
Rach